This trailer for an exhibit from the Pennsylvania Academy of Fine Arts titled
Peace, Liberty, and Independence": 225 Years After the Treaty of Paris
considers the impact of art on the American Revolution.
The video highlights this painting of George Washington by Charles Willson Peale. The painting was one of several portraits Peale would paint of Washington. His most famous was the 1779 portrait shown in the video, which was titled
Washington at Princeton
. It was commissioned by the Supreme Executive Council of Pennsylvania. The painting was so popular, Peale would make 18 copies,
one of which hangs
in the United Stated Senate chamber today.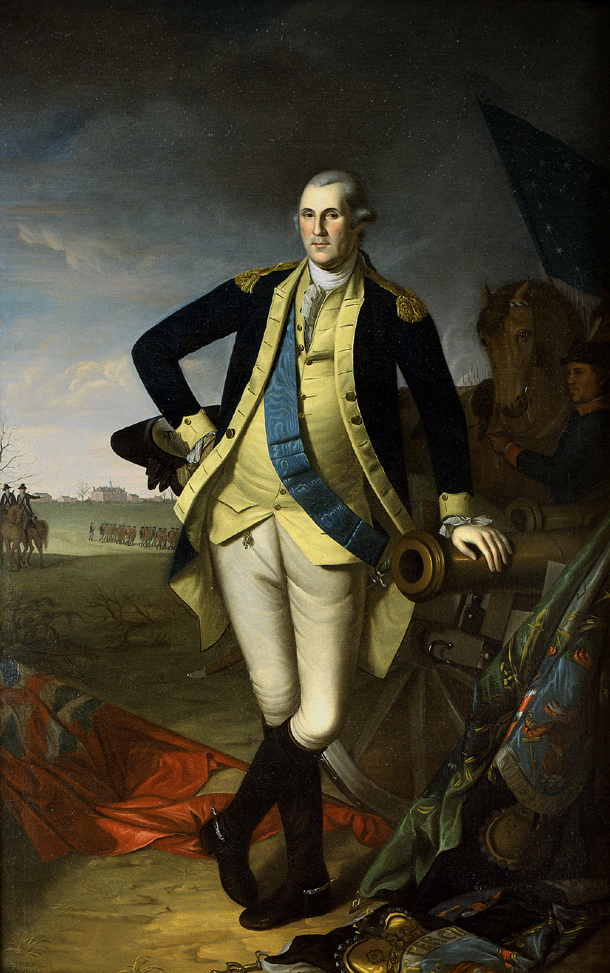 This portrait of Washington painted by Peale in 1776 carries even more symbolic value. This painting was
commissioned by John Hancock
, president of the Continental Congress in 1776 after Washington lead the Continental Army in their surprising route of British troops from Boston. Peale completed the portrait on June 1, 1776, the day the Continental Congress voted on independence.
Peale travel to London in 1767 when he was 26 years old where he studied under Benjamin West for two years. In a series of postings on other blogs (listed below), I have written about Benjamin West's work as a history painter.
Today, portraiture is more of a ritual than a genuine artistic or historical expression. A review the recent history of presidential portrait paintings bears this out.
The official home of presidential portraits
is the Smithsonian Institute's National Portrait Gallery. Selections from the collection are often displayed in the White House. Presidential portraits today are painted from photographs taken during the presidency. The paintings are then unveiled at the end of a presidents term. This
official digital portrait
of President Obama may be used to paint his portrait.
The Obamas
placed their artist mark
on the White House with their choices for display. This work from artist Edward Ruscha titled "I think maybe I'll…" was selected by the Obamas for display in the White House. It is one of over 450 works of art on display in the White house.
The Library of Congress also maintains an online collection of presidential portraits through its American Memory project. The collection titled
By Popular Demand: Portraits of the Presidents and First Ladies 1789 to present
includes 156 images in a variety of forms "include small engraved illustrations, prints based on paintings and daguerreotypes, large woodcut campaign banners, elegants mezzotints, and color lithographs" (see
about the collection
for more).